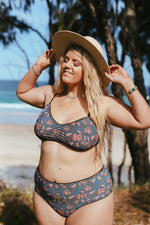 KARTINI SISTER: JESSICA MAE
Our very first 'KARTINI Sister' interview is with boho goddess Jessica Mae. Jessica is a stylist, photographer, content creator (and adorable pug owner) based on Australia's Gold Coast. Jessica partners with independent and inclusive bohemian-style Aussie labels to help create the look, love and exposure they deserve.
Jessica's message is body-positive and she's on a mission to empower more women with more self-confidence. She achieves this by partnering with inclusive independent labels who have something fresh and flattering for every
body
.
I was inspired by Jessica and her story, so I reached out to her for this interview. Read on to find out more about Jessica's mission, her thoughts on sisterhood, tips for aspiring creatives, and more.
How would you describe your personal style? 
Eclectic and feminine.

Who influences your style and what makes you feel inspired?
Since I was a little girl, I have been influenced by icons from past eras like Cher and Stevie Nicks. I am also inspired by the treasure trove that is my Mum's wardrobe. I love everything with bold colour and pattern!


Jessica wears Eco Swim Intimates in Indigo Batik

Can you tell us a little bit about your journey to becoming a stylist?
Working with other artists and creatives is something I have always been drawn to.
I moved to Canada after university and worked in an art studio for several years. This is where I was lucky enough to meet the most talented and driven female artists (and lifelong soul sisters) that taught me all about colour theory, composition and many processes involved in creating beautiful things. These skills enabled me to transition into interior design and then fashion!
In each workplace I am grateful that I have been surrounded by strong women that have pushed me to chase my dreams.

What does your typical day at work look like?
A day on set starts with a very early morning, I am usually the first to arrive on location.
After going for a wander and getting a feel for the spaces we will be using I start to unload a very full carload of beautiful props and accessories! The rest of the day is spent either assisting with dressing the muse or staging scenes for the back drops. I get to meet very talented people and visit some amazing locations!



What advice would you give to someone just starting out as a stylist?
Trust your instincts and be true to who you are. Don't be afraid to reach out to your favourite brands!


What's the one thing in your style kit you can't live without? 
I would have to say it's my bluetooth speaker! Music is the best tool to create a fun and relaxed vibe while shooting.


What do you enjoy doing when you're not styling up a storm?
I am obsessed with thrifting and hunting for cool vintage treasures! I also enjoy exploring beaches and creeks with my adventurous pug named Bruce.


Bruce, the adventurous pug!


You live in such a beautiful part of Australia, what's your favourite local spot?
I am very fortunate to be surrounded by so much natural beauty. Fingal Head Lighthouse and Dreamtime beach would have to be my favourite local spots.


What does sisterhood mean to you?
Sisterhood in my life has come in many forms. Social media has been a fantastic tool for me to make like-minded friends around the world and connect with some amazing women that I would not have had the opportunity to meet otherwise.
Sharing our interests, stories and expressing ourselves through style has helped lift each other up and in turn creates a close bond and Sisterhood. The same platforms can often be used to send the wrong message and make women feel unworthy, so it is important to be supportive of each other and project a positive message while also using it to teach others to build confidence. Sisterhood has taught me to be comfortable in my own skin, created a place free from judgement and taught me to celebrate who I am. I want all women to share that feeling!


Sneak peek: Jessica wears brand new Cinta Onepiece in Retro Batik - coming soon!
See Jessica's work and show her the power of our sisterhood by following her on IG @_jessica.mae