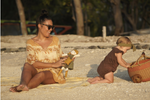 Life on a deserted island.
At the moment, it's so, so quiet here in Gili Air. It really is like living on a deserted island. Most days I take our kids to the beach to play, and we don't see another soul.
This island lays to the north-east of Lombok, next door to Bali. You can walk around Gili Air in under an hour, there are no motorised vehicles, and it is home to a beautifully eclectic community of locals and expats, horses, cats, and a truly special mix of accomodation, eateries, dive shops, yoga studios and little shops.
Pre-pandemic, life was actually pretty hectic. My husband and I were busy juggling both our businesses, KARTINI, our restaurant Pachamama Organic, and family life. In retrospect, the biggest problem we had was trying to find the balance between being completely absorbed by our businesses, and enjoying the life we have created here on a tiny tropical island in Indonesia.
Now that we haven't seen an international tourist for what seems like an eternity, we are grappling with what our future looks like; what comes next? Can we just go back to how things were before once tourism comes back? Will tourists actually come back? In a way this pandemic has been like a giant reset.
One thing I am grateful for in this time of great uncertainty is all the extra time we have had to spend with our kids. I actually go to the beach and swim, dig holes in the sand and watch the sun setting at the end of the day.
I am also grateful for the time I have been able to spend working on KARTINI. While the doors to our island boutique have long been closed I have been able to work on adapting my business and growing my network of beautiful stockists around the world.
One thing is for sure, I am filled with hope and inspiration when I am working on KARTINI. It keeps me connected to the world, and I feel so lucky to have found my calling. 
I look forward to sharing more about my life in Gili Air and all things KARTINI with you here.
Love,
Jill Kartini xo
In frame: My daughter Indah and I at 'our spot' on the North East side of Gili Air.