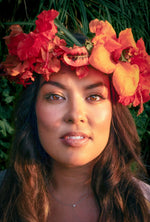 Do you make new years resolutions?
I don't have a list of any kind ready by the end of the year, as it is such a hectic time. I prefer to spend some time in January, reflecting on the previous year and thinking about what I would like to achieve in the year ahead, once the dust of New Years has settled.
In setting my intentions for 2022, I have been thinking a lot about letting go, and being more open. One of my goals for this year is to share more of myself, in telling the KARTINI story. I want to move toward personally embodying the female strength that is such an important part of the KARTINI story and vibe. I want women to feel beautiful in my designs, I also want to feel beautiful - and I want to share that with you in the context of sisterhood. We are all gorgeous and should be free to express ourselves and to feel totally comfortable in our own bodies, through all stages of our lives.
I recently did a photoshoot with a friend here on the island, modelling my own designs for the first time. It was a little bit scary, confronting - but also fun and liberating. See below for some of the photos!
I also decided to interview myself and share a little more about myself with you! Here goes. 
What is your favourite colour? Just kidding. But if you really forced me to choose it would be a version of clay... burnt sienna or terracotta.

Wearing the Maluku Onepiece in Sisik Naga batik, in one of my fave spots on the North East side of Gili Air.
Where are you from? I was born in Melbourne. My Dad is Indonesian and my Mum is Australian. I have lived in Gili Air, Lombok, Indonesia for 10 years now. My Mum lives in a little town called Maleny, Queensland, a place that also feels like home to me. 
How would you describe your personal style? A bold, eclectic mix of vintage, and modern, feminine pieces, earthy tones, florals and of course batik! I spend most of my time in sundresses and overalls layered over swim and love a statement handbag and a chunky pair of sunglasses.



Pairing Classic Black with a batik sarong from my Indonesian grandmother.
Who are your most significant design/fashion influences? I spent my childhood and teenage years wearing my Dad's vintage batik shirts, and my Mum's hippy skirts and silver rings. And I have definitely inherited the gene (from my Mum) that makes me NEED to collect beautiful textiles - and make my own clothing with them! I am an avid op-shopper, a favourite pastime with my grandmother. I love spending an afternoon hunting for unique pieces - it drives my husband crazy, he usually ends up waiting in the car. Some of my absolute favourite and most treasured garments are from op-shops.
I have always loved Zimmerman swim and used to save up to buy myself a pair of her bathers each summer. Lately I have been loving Oak Meadow, Nine Lives Bazaar, Chasing Unicorns, Inika Choo and I also adore Hermant and Nandita. 
What advice would you give to designers just starting out on their journey? Be yourself! Work out what makes you unique and special and tap into that. Don't underestimate the power of collaboration. It can be lonely always working alone, and sometimes it's hard to keep it up. I have found so much inspiration and energy in working with other women, and its way more fun than going solo all the time. 

My favourite print at the moment, Olive Geometric Batik.
What are you working on at the moment? I am about to release Part II of my newest collection 'TANAH' which is an ode to summer, freedom, sun kissed skin, holiday romance and earthy botanically inspired hues. The collection features four new swim prints, and a range of beautiful batik sundresses and overalls - all in soft earthy tones. 
I have also been designing a collaborative swim collection with a beautiful Swedish yoga label Vackraliv, and we will be releasing our limited edition pieces in time for Swedish Summer. 
What do you enjoy doing when you're not working? Beach beach beach - with my two kiddos Javier and Indah, and my husband Jimi. My family is my world and I love adventuring with them. We have picnics at our local beach a lot. I also enjoy meeting up with other mums on the island and letting our kids run wild while we catch up.

Cinta Onepiece in Classic Black
As a Gili Airian, what are your favourite local spots for an escape into nature? Gili Air is a little slice of paradise, but for a nearby escape into nature, I love Selong Belanak in Lombok. The beach is huge with beautiful white sand, mountain views and if you're lucky, you will see water buffalos parading along the beach as the sun sets.
I have really been missing Australia, and Australian nature lately though - one of my fave local spots near my Mum's place is Tea Tree Bay in Noosa.
What does Sisterhood mean to you? Sisterhood is a sacred, unbreakable connection, solidarity, and bond between women, worldwide. It is an unspoken understanding we have of each other as women, and the unconditional support we show each other.
I have never felt more connected to my sisterhood than this past year, and I feel honoured to be amongst the amazing women here in Gili Air.
(Lead photo credit: @florian_allgauer)