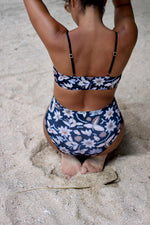 Life on Gili Air has been very quiet for the last two years. It seems like forever since everyone left and the borders closed. It's been a tough time for so many, especially small business owners on the island.
Now Indonesia has opened up and we are all busting at the seams to welcome visitors back to our little island. It seems a little surreal when I bump into the odd tourist - they are like shining beacons of hope! I hope the flow continues to increase and that businesses and families can flourish once more here in our paradise.


As this chapter comes to a close, I think it's important to acknowledge the things we are grateful for and the things we have learned during this trying time.

FAMILY
I struggled so hard to start my family. When covid hit, our first baby had just tuned one, and I was three months pregnant with our daughter. Covid has given us the gift of time with them. More time than we ever would have had if it was business as usual. It's been hard in other ways, but gosh I am glad I spent every single one of those minutes with my kids on the beach.

LETTING GO 
It's been impossible to make plans, and none of us have known what will come next or when things would go back to 'normal'. I have learned to fret less (I am still working on this), and to trust the universe that everything will work out.

GET CREATIVE
Dreaming up and creating new designs has kept me grounded and sane (on most days). It keeps me in a state of flow and makes me feel excited and alive. Without it I probably would have shrivelled up.

BE GRATEFUL
For everything you already have. Your friends, your house, your food, time. This pandemic has been an incredibly humbling time and it has taught me to appreciate everything I already have. I know now that the only thing really missing is my family and friends back home.