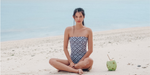 WHY WE DON'T PARTICIPATE IN SALES
Sustainability is at the heart of all KARTINI designs - from materials and methods, to packaging and production style.  
So, each year when Black Friday comes around, I find myself thinking about the ideals behind such big sales - and how brands that claim to be sustainable manage to participate, and run campaigns promoting hugely discounted stock. 
At KARTINI, all our designs are made to order - with the exception of the stock at our beautiful island boutique of course. By managing our orders this way, we eliminate over production and the need to reduce the price of stock to make space simply for the sake of new designs.

There is a short wait time while we lovingly hand craft your swimwear, intimates or activewear.
When my customers place an order, they are choosing to shop mindfully while actively supporting an independent, sustainable brand. 
I also understand that sales present a special opportunity for loved customers to receive a discount on items they might not normally be able to purchase. I would like to extend this opportunity, together with my gratitude for your support since we relaunched in April.
I am excited to gift you $25 off your next purchase, valid for one week.
To claim your gift, please subscribe at the bottom of our website and I will send you a code to apply at checkout. 

Love, Jill Kartini xo