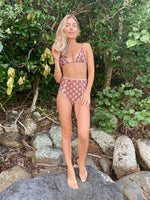 KARTINI SISTER: LAINE HOFFMAN
Introducing KARTINI Sister - Laine Hoffman. I first connected with Laine when she purchased our iconic Flores Onepiece at our island boutique in Gili Air back in 2019. I have been following her adventures ever since.

2022 has already been a year of big changes for Laine, who completed a Bachelor of Health Sciences in Nutrition and Public Health and made the big move from Perth to the Gold Coast, Australia.

Read on to hear more about Laine's thoughts on health and nutrition, her new life on the Gold Coast and sisterhood.

1. Hi Laine! Tell us a bit about yourself.
Hello! Earlier this year I relocated to the sunny Gold Coast QLD, from the even sunnier Perth WA, with my partner for a change of scenery and lifestyle. 
I recently graduated with a Bachelor of Health Science, and I have started a new job in my field which I'm so excited about! Health (in all its many forms and definitions) is something that I've been incredibly passionate about since a young age, and I've learned to really cherish it. At the end of the day, our health is all we've really got, so I believe that investing time and energy into it is one of the best things you can do for yourself.

Laine wears the Java Lace Bikini in Sisik Naga Batik
I'm a huge advocate for the word and concept of 'balance'. I think that finding and practising your own version of balance is the absolute key to leading a happy, healthy life and to feel like the best version of yourself. Even as a nutritionist, I don't believe that any food should ever be totally off limits, and I don't like the idea of labelling food as 'good' or 'bad' – which can harness some really negative psychological associations with particular foods and create dangerous thoughts and habits, which may ultimately lead to disordered eating (ED).

ED is something I personally battled with at the age of just 15, and unfortunately this is a far too common narrative that young women and girls are experiencing at a dangerously high rate. I think that the media (in all its forms) is largely to blame for cultivating ridiculously unattainable beauty standards for women, therefore harnessing a toxic culture surrounding body image for the vast majority of women who do not or cannot physically achieve such marginally narrow ideals of what is deemed 'beautiful'. However I do think that social media in 2022 is slowly but surely moving in the right direction - toward creating a world where diversity and body positivity is embraced and encouraged. I am hopeful for the future!

Aside from my passion for health and nutrition, I would say that I'm a really fun-loving, carefree spirit who values hard work, but time and experiences with loved ones above all else. I absolutely adore travel, and there is so much more I want to do and see in this beautiful world! Indonesia definitely has a pretty big part of my heart, and I can't wait to get
back over there very soon!

2. How did you get into nutrition?
Nutrition (and food in general!) is something that I've always been innately passionate about and interested in – especially since experiencing ED as a teenager. Making the decision to undertake study in this field was one that felt really natural. Some of the best advice I've ever been given in life is: "do something you love, and you'll never work a day in your life".

Laine wears our Swim Intimates in Olive Geometric

3. You are an avid cook - what is your current favourite/go-to meal?
I absolutely love cooking! I find it incredibly relaxing and a somewhat cathartic process. Both my partner and I are massive foodies, we genuinely love all good food and I don't think there's really anything we won't eat, so long as it's been cooked well! 

I especially love Thai and Vietnamese food, so we tend to cook a lot of fresh noodle dishes at home. Our absolute favourite, go-to meal is salmon noodle salad: made with salmon (high quality, skin-on fillets are a must in our opinion); rice noodles; cucumber and carrot (ribboned); drenched in the best sauce you'll ever taste - a blend of fish sauce, lemon/lime, garlic, ginger, chilli, coriander, mint and peanut butter (for a satay flavour). Serve and garnish with crushed peanuts, coriander and mint and voila, enjoy!

4. What advice would you give to someone who is just starting out, trying to make positive changes to their diet and nutrition?
Instead of focusing on eliminating things from your diet, shift your focus to increasing the amount and the diversity of fruits, vegetables and whole-grains in your diet. When you do this, not only are you increasing your intake of essential micronutrients (vitamins and minerals), antioxidants and fibre which all help to improve your health significantly, but you also remove the guilt and shame around enjoying the foods that you love as part of a healthy, balanced diet – which in my opinion can be far more harmful to your mental health than the foods are to your physical health.
When you take this approach to eating, as opposed to the toxic and unsustainable 'all or nothing' approach, you're much more likely to stick to healthier habits longer team, and doing so will easily become part of your lifestyle when you realise how much better you feel! Remember that there's no such thing as perfect, and you should never punish yourself for what you do or don't eat. Just try to make small, realistic changes to the foods you eat every day in a way that you can enjoy and look forward to!

5. You recently moved from one side of Australia to the other. Perth to Gold Coast is a big change! What are you loving the most about life on the Gold Coast so far?
I'm really loving having a change of scenery to be honest – as beautiful as Perth is and much as I love it there, I was definitely starting to feel a little bit stagnant. It was time for a change, and I'm so happy to have the opportunity to have moved over with my partner and best friend. We are loving our new little life over here and have already made lots of new friends and memories which is just the best. 


6. What is the biggest lesson you've learned over the last (very weird) two years of the pandemic?
That its so important to do the things you want to do in life when you have the opportunity – because who knows if you'll get the chance again!

7. If you could hop on a plane to anywhere in the world tomorrow, where would it be bound?
I would absolutely love to go back to Europe – particularly to Spain. I only had a few days in Barcelona the last time I was there, and I adored it! It completely exceeded my expectations of what I thought it was going to be, and I felt so alive there with so much to see and do. I would love to go back and spend a few weeks exploring and to see what else Spain has to offer.

8. What's your favourite way to relax after a long day?
I love coming home to a clean house after a long day, chucking on some comfy clothes, lighting a candle and cooking up a beautiful feast for dinner! I always have music on when I cook and am definitely guilty of having a little kitchen boogie from time-to-time. You also can't beat a good movie or TV show after a long day in my opinion, and I've actually just (finally) got back into reading, which I've been loving as a way to switch off away from a screen!

9. As a new comer on the the GC and a nature enthusiast, which are your favourite spots for an escape into the outdoors?
I am absolutely obsessed with the rainforests over here – and I love that the Gold Coast has the best of both worlds - rainforest and ocean. They both calm and ground me so much. This is probably why I love Indonesia! I'm so lucky to live just minutes away from both. Spending time down at Tallebudgera Creek and the Burleigh National Park has become a daily ritual for me, and I feel so lucky every day to be just a short walk away
from these beautiful places.

10. What does sisterhood mean to you?
Sisterhood to me is my beautiful girlfriends; whose friendship I cherish every single day. I am so lucky to have so many amazing and inspiring women in my life, family, friends and colleagues, who are all so beautifully unique and accomplished, and who enrich my life in unmeasurable ways. Sisterhood is something that I will forever value and cherish in my life.