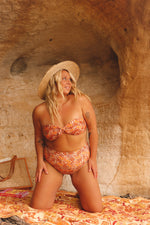 Behind the scenes with boho mermaid + mama bear Rhi.

I was drawn to Rhi's beautiful photography, sunny beach adventures with her daughter, and down to earth, divinely feminine aesthetic. I wanted to know more about her self love journey so I reached out to her for this interview.
Read on to find out more about Rhi's thoughts about femininity, motherhood and sisterhood.

Rhi wears our Cinta Onepiece in Olive Geometric Batik

Rhi calls the Fleurieu Peninsula in South Australia home. She's on a mission to keep inspiring women like herself, on their self love journeys. She wants to help women feel comfortable in their own skin and like absolute goddesses in whatever they choose to wear! 
Rhi partners with independent Australian labels to help promote size inclusivity, body acceptance, body diversity and to showcase sustainable fashion brands.
Rhi urges women to be themselves,
'do all the things you want to do in life and shut out the judgement of others'

Rhi wears our Samosir Bikini Top + High Waisted Bikini Bottoms in Retro Batik.

Hi Rhi! Tell us about yourself. Hello! I live in a little coastal town and I absolutely love the beach, sunshine, adventures, nature, creating and spending time with my beautiful daughter Oceia.
I'm 28 years old and I'm a barista in a beautiful little cafe I've worked in for five years. I've always loved sharing snippets of my life on Instagram, fashion and photography. One day whilst working in the cafe, Arnhem Clothing contacted me asking if I would like to be part of a Style Diary for their new collection. This is something they do to preview their pieces on various body types. I travelled to Byron Bay for a two-day get away, and the rest is history. Now, modelling and content creation are part of my normal work-week. Being a single mama sure keeps me busy too!
How would you describe your personal style? I guess you could say my personal style is "boho", I love flowy, striking, colourful pieces. But over the past six months I feel my style has changed again - I'm loving a bit of everything and changing my look up, and I'm embracing wearing crop tops and tighter fitting clothing. Showing off my curves and skin more. 
I hold onto clothes if I really love them, so I've been enjoying rediscovering clothes I've had for over 10 years. Everything always comes back into fashion eventually so I feel stoked I have kept some timeless pieces.
Who have been the biggest influences on your style over the years? Has your style changed much over time?  I don't really have style icons, but I take inspiration from all sorts of things in life. I love op shops and I am definitely inspired by 70's fashion. I'm inspired by people in my life too, strangers, friends, and customers at the cafe - as well as people I am connected to through instagram.

I was personally drawn to your femininity, and the fact that you seem so beautifully comfortable in your own skin. You mentioned recently that 'we are all a work in progress', can you elaborate a little bit? 
I think we will never fully be 100% comfortable with ourselves. We have come a long way the last few years but there is still so much we have to break down in our society. We will forever be our own, worst critics.
Social media and new size inclusive brands have done amazing things - show casing how normal we all are, and how beautiful we are, just being ourselves. But it's also still a very dangerous space for unhealthy comparisons and portrayal of unrealistic lifestyles. There will always be something about ourselves that we can't fully accept, and even when we think we are healed and 100% loving ourselves unconditionally, something will come up and we will find ourselves picking at something or comparing.
What are you working on at the moment? I have a few Australian brands I work with consistently so have been creating content for them. I've also been loving reels -  dancing ones at that. I can't get over how empowered and amazing dancing makes me feel and mix that with fashion and it's even more fun.
How old is your gorgeous daughter? What do you love most about motherhood? Which part/s do you find most challenging? Oceia is four years old. There is so much I love about being a mum. Watching Oceia evolve and grow has been the most incredible journey. It has also been a journey of growth for myself as a woman and mother - watching her come into herself as a little person, soaking up the world and what it teaches her. She is my little best friend and she inspires me. She's so confident, and fierce, loving and so friendly. She gets me out of my comfort zone all the time.

Looking after a little person is so challenging too. I think becoming a mother is one of the most amazing things you can do but it's the biggest sacrifice also. The old you dies, and you are reborn. You do feel like you lose your identity but I have really enjoyed finding myself again and becoming and even better version of myself then ever before as Oceia grows older.
The juggle between mum-ing and working is so real! Do you have any weekly or monthly rituals that help you maintain the balance? The juggle is so real, and can feel super overwhelming sometimes. Actually since I became a single parent and started co-parenting, I have found more time for myself which has been incredible. 
I take myself out for coffee, on adventures or just to the beach. I love sitting in a cafe, having a coffee and reading a book or doing my social media work.
Honestly it's about having those little moments to yourself, completely uninterrupted.
What do you enjoy doing when you're not working? Going to the beach!

You live in such a beautiful part of Australia, what is your favourite local spot? It's a super popular spot, Port Willunga Beach.
What does sisterhood mean to you? Uplifting one another; supporting each other's achievements and victories. Leaning into each other and sparking that fire in each other to be the women we truly want to be. Judgement free. Being the village. For each other, for our kids.

See Rhi's work and show her the power of our sisterhood by following her on IG @__staygolden